Researching Mobile App Agencies? Ask About These Hidden Costs
So you've finally decided that you're ready to build a mobile app. That's exciting news! Maybe the app is for your e-commerce shop or intended to improve your internal business communications. Who knows? Maybe you have a great idea for an app and want it to become the next Snapchat.
Regardless of your scenario, you need to figure out exactly how you're going to develop your app. Finding a mobile app development agency is a logical place to start.
There's just one problem. You'll likely find hundreds of different agencies to choose from. How can you possibly know which one is the best for your app?
Fortunately, you'll be able to eliminate some options right away based on things like their location or reputation. But once you start narrowing your choices down, the cost of your app will likely play a major role in your decision-making process.
Unfortunately, not every agency is always transparent about their pricing.
If you don't know what questions to ask an agency, then you could end up building an app that costs double or triple the amount that you initially thought.
Don't get me wrong; this is not necessarily because agencies are trying to deceive you. While there are certainly some bad apples out there, this won't be the case for the most part.
Some important mobile app development factors just might not be included in your initial bid from a developer. So it's in your best interest to get all of this information clarified from the beginning to avoid unpleasant surprises down the road.
So use this guide to help you get a more accurate bid from the mobile app agencies you're considering for your app development project.
Here are some of the most common hidden costs you need to ask about:
The simplest way to break down hidden costs is by pre-launch and post-launch. So the first thing we'll do is cover the questions you need to ask an agency related to the development process.
What Platforms Are Covered?
There are two platforms for mobile app development; iOS and Android. The total cost to develop an app for each platform will vary, with Android development being slightly more expensive than iOS development.
So this question is simple. When you're consulting with a development agency, just ask if the bid includes iOS, Android, or both. Assuming you'll want your app exposed to the widest possible audience, you want to find a bid that includes development for both platforms.
If you don't ask, your final product may only be half of what you expected, and the additional costs could ultimately double to deliver what you need.
You should also inquire about the type of development the agency is going to use when building your app for each platform. If they are planning to build a traditional native app, then they will have to build two separate versions for each platform.
This development process will add unnecessary costs to your bid.
Look for a development agency that can build hybrid apps. In this case, you can build for iOS and Android simultaneously, without having to develop two separate apps.
Finding out if your prospective developer offers hybrid development can save you from a significant amount of hidden costs as well.
What Technology is Required?
According to a recent study, the average cost of a mobile app ranges from $38,000 to $171,000.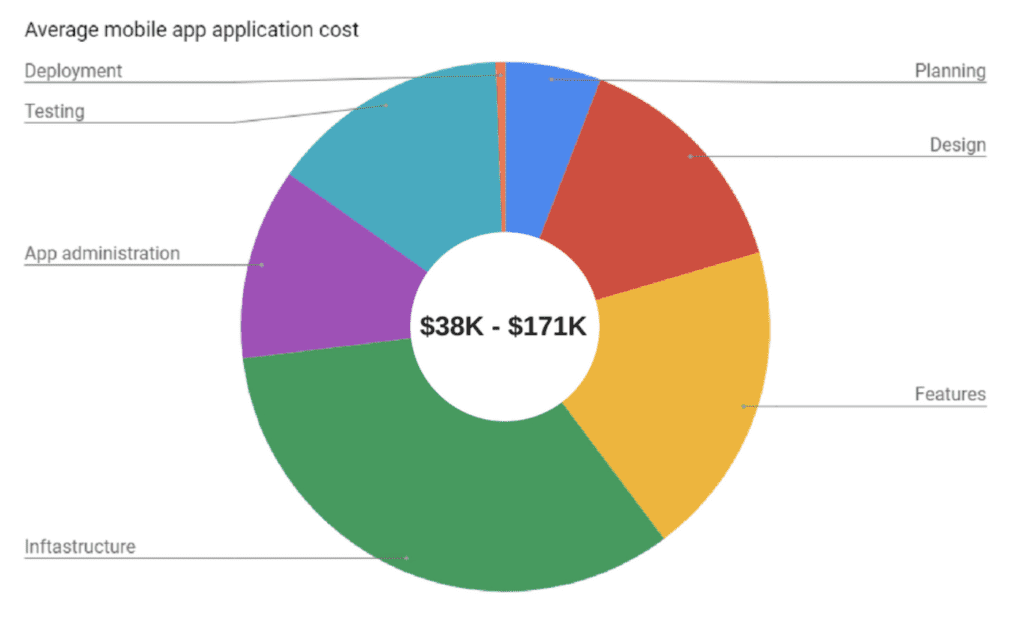 Obviously, there is a huge difference from the bottom of this price range to the top. That's because all apps are not created equally.
As you can see from the graph, a huge portion of that price is related to features and infrastructure. Both of these factors are related to the technology needed to make your app work.
It's like asking about the average cost of a house. If you want to buy a one-bedroom house with 500 square feet in the middle of nowhere, it will cost significantly less than a six-bedroom, 4,000 square foot house by the ocean.
Apps are the same way. The price will depend on the features you want, and the technology required to meet those needs.
All too often, I see people who want to build an app focus all of their attention on app features. There's nothing wrong with this, but you need to understand the technology behind those features as well, and how that technology will impact the cost.
For example, if you want to save user information, make sure your bid includes a database server. If you want to conduct user analytics, make sure your bid includes an analytics server.
An app that allows users to log in will need an authentication server and an app that sends push notifications will require a push notification server.
The list goes on and on. Each new feature will require a supporting piece of technology, which ultimately increases the cost.
So ask your development agency if all of the technology is included in the bid. Otherwise, you could be surprised to see some hefty upcharges when everything is complete.
How Long Will it Take to Build?
Depending on the agency, your development timeline could impact your final cost. It all depends on how they set up your bid.
For example, if they're charging you a fixed monthly rate until the development is finished, your app could end up becoming much more expensive than anticipated if they fall behind schedule.
Here's a look at some different steps in the development process.

As you can imagine, there is no one-size-fits-all answer to how long it takes to build an app.
We've previously published a guide on mobile app development timelines. During our research, we discovered:
24% of apps take 1-3 months to build

48% of apps take 4-6 months to build

16% of apps take 7-9 months to build

12% of apps take 10 or more months to build
So for the most part, there's a good chance that you can build an app in six months or less.
If an app development agency is telling you that this process will take longer, make sure to ask if the bid is related to the time frame. You want to make sure that the price is fixed, regardless of how long it takes to develop.
How Will the App Be Secured?
While it may not be the first thing that comes to mind when you're thinking about app development, security is certainly one of the most important features to consider.
But again, not every development agency will include this pricing in their bid. So you need to ask if your quote covers all of the necessary firewalls and encryptions.
Security is not something that you can overlook. Here's why.
Let's say you've budgeted $20,000 to spend on an app. However, you realize after it's been built that the bid didn't include security. But you've already maxed out your budget. Now what?
You can't launch an app without the proper security elements. So if you can't find a way to come up with the additional cash, you're stuck.
In addition to asking about the cost of security features, ask your agency to be specific about the type of technology they will use to keep your app safe. If they are only using basic security, you may need to come out of pocket down the road for advanced protection, which is a scenario that you'd obviously like to avoid.
Developing a mobile app is like owning a house. If you only think about the initial purchase price, then you'll be disappointed to learn that you have to pay for insurance, utilities, and regular maintenance.
The cost of building an app doesn't stop once it's live. So talk to your development agency about the prices associated with the situations below.
Making Changes
Even the best and most popular apps on the market come out with updates on a regular basis.
Sometimes this is because you intentionally decide to build it out in stages. Other times, it's just because you find ways to optimize it over time by improving the user experience. Or if you have an e-commerce mobile app, these changes could be related to reducing friction in the checkout process to increase sales.
And don't forget updates that will inevitably be needed in order to keep up with the latest technology, such as new OS released by the mobile platform.
The bottom line is this—your app is going to need changes. So how much will these changes cost?
Ask your development agency. Find out if the quote includes updates. Will you be charged per update? Do they charge you a monthly or hourly rate to be on call?
At the end of the day, these costs are unavoidable. So try to find a development agency that gives you fair and transparent pricing for updates so you can plan accordingly.
Scalability
While it may not be something that you're dealing with all of the time, your mobile app is going to have traffic spikes from time to time. Don't worry; this is a good thing.
It means that people are using your app. However, this traffic increase can overwhelm your capacity, causing servers to go down. Unfortunately, this is one of those things that just happens.
That's why you need to understand how your app is supported by a load balancing and auto-scaling perspective.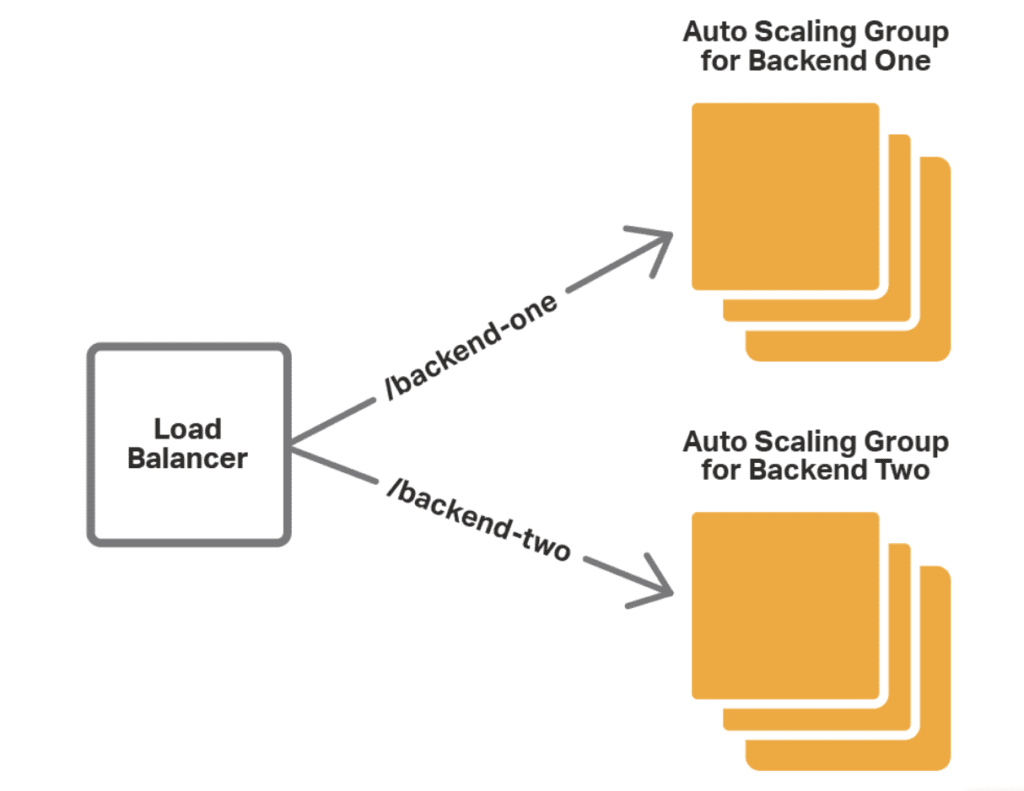 Auto-scaling ultimately reduces costs because it will always adjust the number of required resources based on the current workload of your app.
You don't want to cut corners when it comes to the pricing here. Otherwise, there could be instances where your app is crashing or unavailable. That's obviously something you want to avoid.
But with that said, you don't want to overpay for resources that you're never going to use or only going to use on rare occasions.
So talk about your scalability options with your mobile app developer. Ask specifically about the workload and costs associated with scaling. See if they have a cost-effective option, such as the load balancing and auto-scaling described above.
Support
Will your app development agency continue to maintain the app for you after it's been built? Who do you call when stuff happens? How much will this cost?
These are important questions to ask as well.
Ideally, you want to find a mobile app developer that's able to maintain your app and infrastructure post-launch. That's going to make things easier for you in the long-run.
However, make sure you get a quote for how much this will cost.
In most instances, there will be a fixed monthly fee associated with supporting your app. Just ask about it ahead of time so you're not surprised by the bill down the road. Compare this cost to the rates offered by other developers you're vetting as well.
Conclusions
When you're narrowing down your choice of mobile app developers, just make sure you take a close look at your bids to make sure that you won't be surprised by hidden costs down the road.
At first glance, you may think that one agency is significantly cheaper than the other. However, upon further inspection, it might be because they didn't include the costs related to technology, security, or support.
Being able to distinguish between pre-launch and post-launch costs is crucial from a budget standpoint as well.
When you're shopping around for a developer, just be sure to ask these questions. So use this guide as a reference for figuring out which questions to ask.