10 App Categories That Will Dominate 2023 and Beyond
The world is changing. Recent global events have changed the way businesses operate—some short-term, and some forever.
As an entrepreneur or a business owner, you need to recognize these trends and adapt accordingly.
Some of you might own a business in an app category that didn't require an app in the past. But based on circumstances out of your control, consumers now expect to see apps in that category.
Other entrepreneurs might be looking for an edge in a new industry or business venture, and certain types of apps are better than others.
We created this guide to show you the types of apps that make money based on recent and future trends. You can use this guide to brainstorm app ideas and take your business to the next level by creating a new app in a popular category. Let's dive in
1. Medical Apps
There's a significant demand for mobile apps with a wide range of use cases in this category.
Doctors and physicians can use apps for scheduling appointments, check-ins, appointment reminders, and more. Apps great for post-appointment surveys as well.
One popular feature that we're seeing in this category is health education. There's so much misinformation on the web regarding different illnesses, vaccines, etc. So medical professionals are using mobile applications to provide patients with accurate and relative information.
For example, you could create a symptom checklist for various illnesses. You can also provide useful resources on what patients should do if they're experiencing certain symptoms. Apps can also serve as a resource for doctor information, addresses, phone numbers, and even doctor bios.
According to a recent study, 90% of US adults use at least one digital health tool. Statista estimates the mobile health market to reach $189 billion by 2025. That's not all. A whopping 93% of doctors believe that mobile health apps can actually improve patient health.
Statistics and trends like this truly speak for themselves. If you're a doctor, dentist, OB/GYN, pediatrician, podiatrist, dermatologist—basically any professional in the medical field, your practice can benefit from a medical app.
2. Health and Wellness Apps
Let's stick with a similar trend but with a different point of emphasis. Beyond medical apps for doctors, several other types of businesses can dominate the health and wellness space.
Anyone running a fitness business should be looking to go mobile.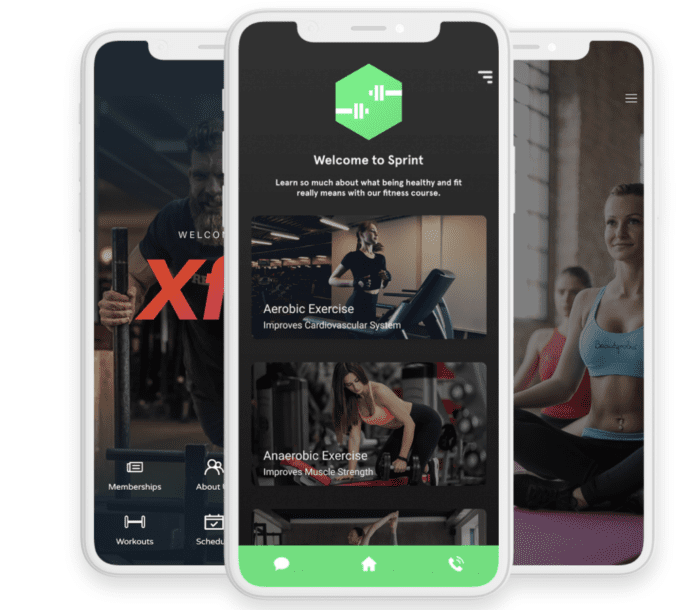 The possibilities here in the health & fitness space are seemingly endless. Use cases and examples in this app category include:
Gym apps
Personal training apps
Cooking apps
Apps for dietitians and nutritionists
Weight loss apps
Meditation apps
Yoga apps
The list goes on and on. There are countless ways to expand your fitness business and make money in this app category. I'll quickly cover a few specific scenarios that we've seen explode over the last year or so.
Virtual personal training is on the rise. Trainers are using apps to create 30-day workout challenges with custom videos and lessons. App users find this extremely useful, as they have access to these training sessions on-demand.
Gym owners are using apps to manage memberships, share class schedules, set up training sessions, and facilitate mobile check-ins.
According to Statista, there are 86.3 million people in the US using health and fitness apps. That's up from 68.7 million users back in 2019. As you can see from the trajectory of this trend, health and fitness apps can be huge money-maker moving forward.
For more information, check out our blog post on how mobile apps are transforming the gym world.
3. Grocery Apps
Years ago, ordering groceries online was a pretty niche category. But that's no longer the case.
As big players like Amazon, Walmart, and Target have started offering grocery delivery and grocery pick-up services, consumers have quickly adapted.
Today, anyone with a grocery store should be developing a mobile app. From large chains to small mom and pop shops, specialty stores, and everything in between. Just take a look at how online grocery shopping has penetrated the US market, based on a recent study from Business Insider.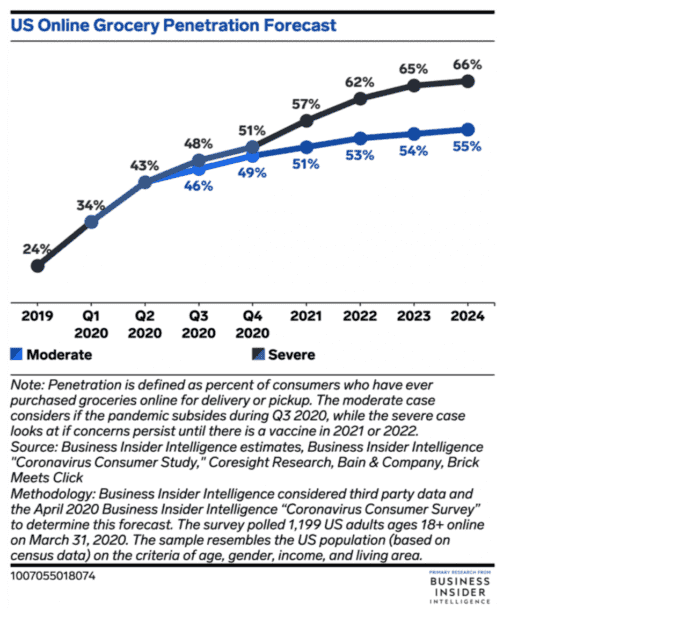 Mobile apps give businesses a significant advantage in this space.
First of all, forcing people to open a laptop or desktop for grocery pick-ups or deliveries is a pain—everyone wants to use their phones. Mobile sites alone won't get it done. They're not as user-friendly as an app, and they can add frustrations to shoppers.
But arguably the biggest win for grocery stores is the ability for users to save information in the app. This simplifies the checkout process and allows for higher conversion rates.
The user's name, address, phone number, email address, and payment information can all be safely stored within the user's profile. So when it's time to place an order for pickup and delivery, it's just a matter of clicking the buy button—no need to re-enter this information for every order.
There's a growing demand for mobile applications in the grocery space. Businesses that adapt quickly can make a lot of money in this app category.
4. Education and E-Learning Apps
Remote learning trends are on the rise. This has increased the demand for education and e-learning apps.
Beyond traditional schools and universities, there are lots of use cases for educational apps.
Tons of people are using e-learning apps to attain new skills or credentials. For example, Udemy saw a 425% increase in online course enrollments last year. Duolingo, a mobile app for learning new languages, experienced a 148% increase in new user signups during a single month in 2020.
There are even lots of new educational and e-learning apps on the market targeted towards children. Kids Learning Tube is a great example of this.
Kids Learning Tube is an online learning resource for children. Kids learn about subjects like geography, nutrition, the solar system, and more through animated videos and music. These videos have more than 615+ million views on YouTube alone. The videos were so successful that the online learning company decided to launch its own dedicated e-learning mobile app.
The app was built using BuildFire, and you can read the full Kids Learning Tube case study here.
With so many possibilities in the online learning space, we've just barely scratched the surface in terms of potential for educational apps. Expect a significant spike in the release and user adoption for these apps in the coming years.
5. Restaurant and Food Delivery Apps
The food & drink industry has been faced with significant challenges over the last year or so. Most of this has been driven by lockdowns, government regulations, and consumer behavior. But the restaurants that have adapted will continue to survive and thrive moving forward.
Just take a look at the US food delivery app revenue from the past six years.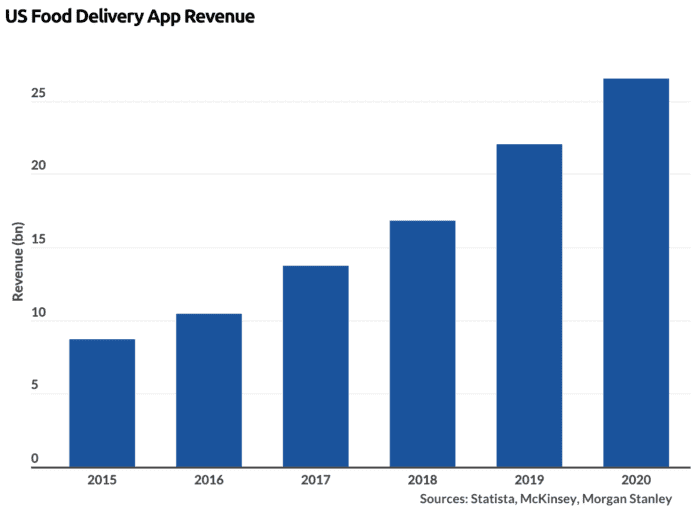 Revenue reached $26.5 billion in 2020, up from a modest $8.7 billion back in 2015. As you can see from the graph, these numbers were trending upward long before a global pandemic rocked the world.
But consumer usage and preferences for food delivery go beyond the big names like GrubHub and UberEats. According to Statista, a whopping 67% of people in the US prefer to order food directly from a restaurant's website or mobile app.
This is great news for restaurant owners nationwide. It gives you full control over your margins, as you won't have to pay the fees associated with third-party services.
A dedicated restaurant app also allows you to manage reservations, send targeted promos, set up a customer loyalty program, and more. Customers can keep their payment information and address on file for quick checkouts and as well.
6. Dating Apps
30% of US adults have used an online dating app. This percentage increases to 49% for people between the ages of 18 to 29 and 38% for adults between 30 and 49.
The stigma associated with dating apps has changed over the last several years as well. Many people are using these platforms to find a committed partner, and it's working out.
Take a look at this graph based on research from Stanford. The data shows how couples in the US met over the last 60 years.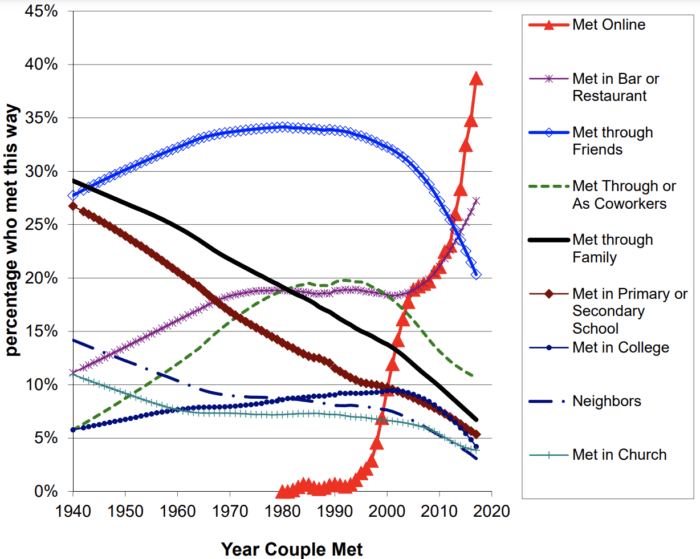 As you can see, just one of these trend lines has a significant upward trajectory, and its growth is exponential—online dating.
According to Statista, there are 44.2 million online dating users in the United States. This app category generates $602 million per year.
There's lots of money to be made in this lifestyle app category. Even beyond the big players like Tinder, Bumble, Hinge, and OkCupid, and more, there's plenty of room for smaller niche dating apps as well.
7. Finance Apps
The demand for finance apps is skyrocketing. Over the last several years, the overall fintech market has been trending up.
Mobile banking apps, mobile payment apps, asset management apps, personal finance apps—all of these are seeing a rise in user adoption and usage.
According to Google, 73% of smartphone users have used a mobile app to manage their finances within the last month. Investment and stock trading mobile app searches are growing 115% year-over-year.
In 2020, finance apps saw a 90% increase in install market share worldwide.
People like the idea of using an app to track expenses, pay bills, save for big purchases, trade stocks, and more. These apps allow the average person to feel more in control over their finances, and it's going to continue trending upward for the foreseeable future.
From Android apps on the Google Play store and iOS apps on the Apple App Store—finance apps and subcategories in this space are popular on every operating system.
8. Pet Apps
If you look beyond social networking apps, productivity apps, and entertainment apps, you'll find a niche target audience that's primed for spending money. Americans are obsessed with their pets. This obsession is causing them to spend more and more money on animals.
There's more awareness around pet health and quality foods. The days of dogs and cats eating bulk, cheap foods stored in the closet are slowly moving behind us.
Pets are even getting gifts. In fact, 92% of Millennials buy their pets gifts—and 51% buy their pets gifts at least once per month. Pet apparel is one of the fastest-growing ecommerce app categories as well. For example, pet hoodie sales grew by 622% in just a one-year period.
Between pet grooming, pet food delivery, dog walking, pet insurance, and more, there are countless ways to make money with a pet app.
Believe it or not, 45% of pet owners in the US spend the same or more on pet healthcare than their own healthcare in a given year.
It's safe to say that people are willing to spend money on their pets, and there's lots of room for apps in this space.
9. Ecommerce Apps
It should come as no surprise to see ecommerce apps on our list. This is a category that has been growing exponentially for years now, with no signs of slowing down.
Compared to online shopping from a mobile site or desktop browser, an app offers significantly more advantages for users and businesses alike. Just look at the conversion rate comparison between mobile browsers and mobile apps in the ecommerce space.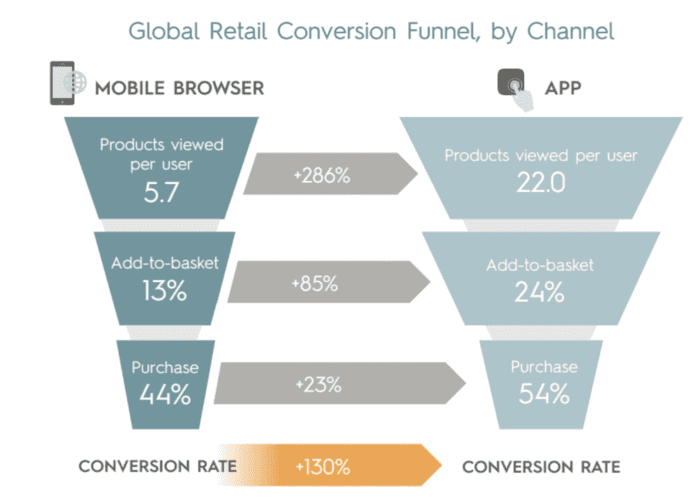 In terms of personalization, speed, convenience, customer support, offline access, user experience, engagement, and checkout optimization—apps have an edge in every category.
For those of you with an ecommerce presence, a mobile app has become a must-have feature.
Even if you're a small retailer interested in increasing your online presence, ecommerce platforms like Shopify allow anyone to create an ecommerce site with ease.
From there, BuildFire has a simple Shopify integration. App development has never been easier—with a few clicks you can turn your Shopify store into an ecommerce app. No coding, technical experience, or formal app developers required.
Check out our guide on how to increase Shopify sales with a mobile app to learn more about this concept.
10. Internal Communication and Employee Apps
Beyond apps for general consumers, we're seeing a huge spike in demand for internal business apps and workforce apps.
HR apps and employee communication apps have become the new normal for the modern workforce. With so many remote employees and field service workers out there, apps make it easy for businesses to stay in constant communication with their employees from anywhere.
Workers love the employee self-service functionality of the apps, like quick access to crucial information, company news, and more. Lots of businesses even add a social media style function to the app, where employees can informally communicate and share stories.
You can use these apps to facilitate schedule changes, training lessons, employee safety, compliance, employee onboarding—the list goes on and on.
Here at BuildFire, we've seen a significant increase in requests from businesses of all shapes and sizes that need a mobile app with these types of features. From small businesses to enterprise organizations and everything in between, employee apps will continue to grow in popularity in the long run.
Conclusion
There are tons of ways to make money with apps. But targeting app categories that are trending up is the best place to start.
As you can see, these categories weren't just pulled out of thin air. They're all based on recent trends and statistics. What separates the best business owners and most successful entrepreneurs from average is identifying these opportunities and adapting accordingly.

For those of you that want to take full advantage of creating an app in one of these categories, book an app strategy session with BuildFire.